Secretary, Board of Directors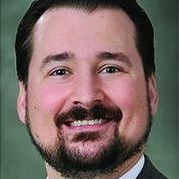 Mr. Krumbholz is a Vice President for Sterling Federal Bank, a mutual institution founded in 1885. He has held the position of Chief Retail Officer since 2017, overseeing a network of 10 retail services branches as well as the cash management group focusing on business deposit accounts and services. Mr. Krumbholz lives in Sterling with his wife and two daughters.
In addition to serving on the foundation board, Mr. Krumbholz serves on the board of the Cedar Rapids Metro Parkinson's Association. He is also an ambassador for the Sauk Valley Area of Commerce where he was elected co-chair in 20202.
He earned his degree in Financial Management from Upper Iowa University, graduating Magna Cum Laude in 2011 and his M.B.A. from the Tippie College of Business at the University of Iowa in 2013.